Shai Cellars - Established 2008.

Pronounced shy. Shai is the Hebrew word for gift.
I was born in Israel in 1967 and moved to the States at the age of 10. I have lived in the Los Angeles area since 1978.
I discovered wine in my late 20's, and I was soon fascinated by the magical transformation of grape to wine. Having an inquisitive personality, my "thirst" for knowledge grew and grew.
While exploring wine regions I discovered that the Santa Ynez Valley was in LA's backyard. I became a frequent visitor to the local wine scene, and realized that Rhone style wines, old and new world, were some of my favorite.
I was able to work harvest alongside great winemakers. I was hooked!
In January of 2008 I decided that I was going to make wine that year. I purchased barrels and waited for harvest. October came very fast. With consultant Mikael Sigouin my journey had begun.
Since I'm a perfectionist, I am dedicated to making small lot, hand-crafted wines with care and attention to quality and detail.
The 2008 Adome (meaning Red) is my 1st vintage. It is a blend of 65% Syrah and 35% Cab. Only 230 cases were produced. 100% French oak barrels. All Santa Yenz fruit. This wine has great balance, wonderful texture and mouth feel. It can be enjoyed now and for many years to come.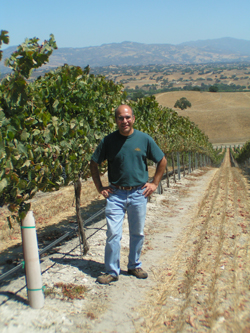 Cheers,
Shawn Shai Halahmy
Winemaker & Proprietor
Shai Cellars
Tel: 818.613.7355
email: Shawn@ShaiCellars.com
web: www.ShaiCellars.com



www.facebook.com/ShaiCellars



@ShaiCellars